Attraction
Water Slides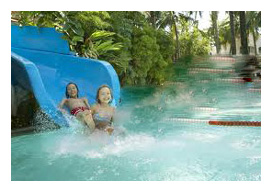 A wave pool is a swimming pool in which there are artificially generated, reasonably large waves, similar to the ocean's. Wave pools are often a major feature of Funtasia island Water Park.A feast of thrill and excitement for Young & adults.
Wave Pool
The Wave Pool at Funtasia island guarantees the maximum number of users and fun for families. It's always high tide here. It is spread in a large area approx 1690-1800 sq.mtr. and it gives feel like a shore-line where artificial waves break. Pneumatic system uses high power centrifugal fans to push high air volumes. Visit here for Heaving waves, Heaps of Happy moments.
Swimming Pool
We have separate swimming pool for adult. It is very well designed with modern architect which contains water-based recreational and adventurous rides. People will definitely appreciate and enjoy the swimming experience over here.
Water Rides
Funtasia waterpark is spread in area of 440 sq.mtr. It is an amusement park that features water play areas, such as water slides, kids water pool and other recreational bathing, swimming, and barefooting environments. It is equipped with different type of artificial surfing and bodyboarding environment such as a wave pool and FlowRider. We have come up with 9 unique water rides, specially imported from China.